Originally posted on SparkPeople.
In this moment, on this day, I am so proud of myself I can barely breathe.
I signed up for my very first full marathon.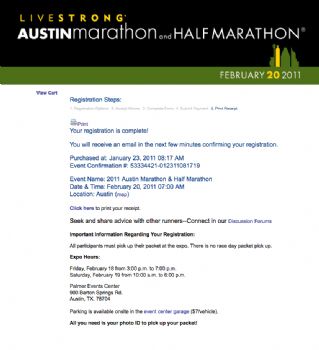 It is the last in a series of five races that make up the Austin Distance Challenge. I've done three of them. There's a half marathon next Sunday, and then this marathon on Feb. 20th.
What's amazing to me is that the half marathon next Sunday? Pffft. Barely a blip on my radar. In fact, I'm going to do that race, and then add another 7 miles onto it to complete a 20 mile training run for the Real Race.
I am so proud of myself. In Sept. 2007, I signed up for SparkPeople. And did nothing. In Dec. 2007, I started making a commitment to my health. In Jul, 2008, I broke my back in 4 places, after having lost only 20 pounds. In Sept. 2008, I had surgery on my foot. In Sept. 2009, I had officially lost 50 pounds.
I was afraid, I will admit now, that I would reach my goal, and backslide to where I had started. That hasn't happened. Instead, my life has continued to change. I've continued to be committed to my health as a way of life, even if it's not as meticulously as it was for those 2 years I was losing.
And now I've done this, signed up for this series of races. It's a big accomplishment where I live, to be able to say you did the Distance Challenge.
There will be many people at the marathon who have done more, faster, sooner, better than me under harsher circumstances, against greater odds. But for those moments, when I run those 26 miles, I will be prouder of myself for that than anything else I have ever done including graduating from college with my 4.0.
I will be proud because this marathon represents more than just a 26 mile race. It represents a commitment I made to myself to change the core of my life – Health #1, EVERYTHING else #2.
It represents doing something that doesn't come natural to me – running.
It means I stuck with something, when my natural tendency is to go all out for a short burst, and then blow it off.
I don't want to be ordinary, and by doing this, I'm doing something uncommon that not everyone does. That's no short distance to go, that 26 miles. Someone said to me last week – you've done 20, what's 6 more. They don't understand how, when you're near the end of that 20 training milees, you can barely imagine those few more blocks to your car. But I can, and I'm just a little sad for them not understanding the amazing pride that comes from just those last few steps.
I run at night, in the cold, in the rain. There are only a few others out there with me, putting on those miles. I've worked hard to figure out nutrition, equipment. I don't have it down; I have 4 more weeks to learn. But I'm going to make it; I'm going to learn what I need to know. I'm going to cover those miles on the trail, and in my life that I need to cover.
I've had so very many personal challenges along the way, too. It can't be coincidence how many things changed in my life when I started taking care of my health. And it isn't coincidence that now, when I'm training for the hardest race of my life to date, that I'm running the hardest I've ever run for my life, too.
I am taking the lessons I'm learning from training, and applying them to my life. Baby steps, trust your instincts, learn what you need to know, accept that you're not going to get it right the first time, and that sometimes it's going to hurt more than you think you can bear. That pain will create a protective layer where you most need it.
I've learned it's okay to be out in the cold and the rain alone, not sure if I can find my way back. I've seen that I DO find my way back, and even if I haven't done a stellar job, I haven't died, and I can try again later.
And when you're done, no matter how sloppy you got it done, stop for a moment and be PROUD of yourself.
I've also seen that, even though I'm taking those steps alone, I have support. If I can't make it, a friend will come get me. My friends have cheered me on through my training, taken the time to tell me they're proud. One friend is even coming back to the finish line when I expect to finish to witness the victory this race will be for me, even if I'm the last one that crosses.
This is true in my life as well. My friends have come forward to help me make the changes that are breaking my heart and shaking the foundation of my life. They trust that I know what I'm doing, while they are ready to help me out or hold me up when I falter.
It may take a few runs to get ready for the run of my life, and I may not do it perfectly. It might take me a few tries to run for my life, too. I won't get that perfect either.
But I'll get there in both cases. I won't be first; I won't be last, but I will get it done right for me. And when I do, in both cases, I will be so proud of myself, I bet I'll barely be able to breathe.