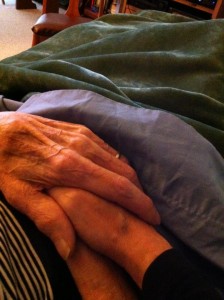 I loved my Dads hands.
One of his fingers was crooked and one nail was bent.
He wore his wedding ring still, even 30 years after my mom had died.
His hands played piano and played guitar and laid out ads for the newspaper to pay for our childhoods.
He adopted us, his children, and paid for piano and guitar, for sandwiches and clothes, with those hands.
He built campfires and model railroads.
He refinished our dining room table and chairs, and a rolltop desk he got from my mom's father.
He fought twice for his country with those hands.
He took care of my mom when she was dying, and he did crosswords until those hands shook so bad he couldn't hold a pen anymore.
He played cards, answered the phone and made dinner with them, even when he wasn't very hungry, because I wanted him to keep going.
But more than anything, I love his hands because for the last 8 days he's held mine with them…sometimes gently and then yesterday insistently tighter.
He held them so I could help him let go. And he held them to help me let go too.
Last night we held hands while his chest rattled and his breath gurgled. He held on until I got up to get him some medicine. I let them go, just for a moment, and then he let go, leaving me behind to hold these precious memories of the most beautiful moments I could have imagined spent holding his hands.
Thank you Dad, for all the times you held my hands, and for all the times I had the privilege of holding yours.
I will hold the memories forever in my heart as I begin my journey of missing our moments spent holding hands.
~ cj 2012.05.17
Here's the original post on Facebook.
Facebook – My Dad's Hands
I was so moved by the 85 people who liked that post and the 55 comments people took the time to add to what I'd posted. It didn't take my grief away, but it helped carry me through.