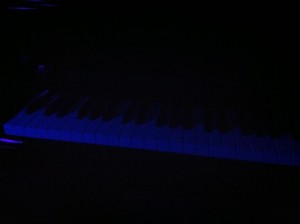 I just created a space for myself on Soundboard to upload my piano creations.
http://www.soundboard.com/sb/cjromb
I have NO composition, chord progression or music theory training. I've been playing classical piano from sheet music since I was 5, but I'd largely stopped playing at all for a long time, bored out of my mind with it.
Then I realized the life metaphor me not playing piano was. I'd stopped because I was sick of playing other people's music. I was sick of copying, pretending emotion that didn't belong to me, working towards some kind of perfect translation.
I was living someone else's life, too. I had a business that was designed to fit what someone else wanted. I was with someone I wasn't happy with, and I wasn't writing because my creativity scared him.  He didn't view it as "normal". Everything in my life was heading me straight towards dying with my music still in me.
By some amazing piece of luck and some courage I didn't know I had, I bailed on all of it. I absolutely had support, encouragement and some super helpful friends along the way in making these changes in my life. And about a year and a half ago, a friend who plays music came by and showed me how to do a few things on my piano, too.
That's all it took, and I've been on my way ever since, both with my music and with my life.
And here's the thing. I've found my own music. I've found my own voice. I'm not one bit shy about showing you my writing, or sharing my music. Part of my message as I go forward is that we ALL struggle, we're ALL at Step 1 sometimes. Why hide that? Why NOT let someone see "draft work", "rough composition"? Why NOT where one's heart on one's sleeve? If someone is cruel, then that's someone we just learned shouldn't be part of our lives.
Once I opened the door to ME, I've found an explosion of creativity in me. Just in piano pieces, I've created over 900 in a year and a half. I've written hundreds of poems and essays, too. Will it make a difference to anyone? It's made a difference to ME.
Neither my life transition, nor my musical pieces are finished, and neither is EVER going to be "perfect". I don't care about perfect or right. I care about happy. I love my life, and I love playing my piano now, and that's what matters to me.
So with that said, here's my music. If you like it, you do. If you don't, I'm not going to give it a bit of worry. I've uploaded 6 so far, and as I sort through the mess from my iPhone crash, I'll upload more.
Oh, and here's a poem I wrote about my piano awhile back: