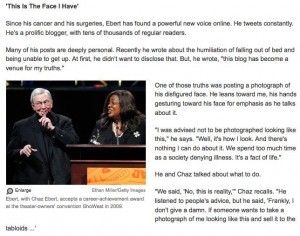 Roger Ebert is My Hero.
The link to the story is here: http://budurl.com/nprebert
The screenshot of this part of his interview says exactly how I feel about being open.
I put my heart out there, I tell my stories. I get asked all the time why I do that, isn't it scary, won't I get hurt?
I tell people that our stories are often the greatest gift we have to give each other.
I will not celebrate nor will I suffer in silence.
I love that Roger Ebert puts himself out here like this. Roger Ebert, you are my hero.