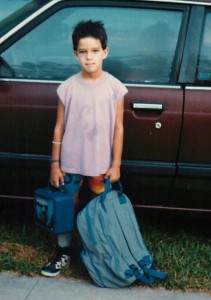 Dear Mom And Dad,
I know getting ready for a new school year is hard. I did it for 12 years with my beautiful boy.
Getting that supply list and standing in line at Wal-Mart, Target with all those colored pencils just waiting to create something exquisitely artistic. The cart holds the folders you hope will soon hold those "A" papers you dream for your very smart child. There's paper and pencils they'll use to hone their penmanship and their math skills, and that new pencil case they pleaded hard with you to buy.
You wrestle and argue with your beautiful child, who's like no other child ever born, about what shoes, what jeans, what shirts are acceptable, cover up enough, don't get them ridiculed for being out of style.
You help them choose classes, praying they move through the world on a better, less painful path than you chose or found to be your life.
You pack their nutritious lunch or give them money, hoping they don't spend it on chips, snickers and soda. You arrange after school care hoping they have fun and get their homework done, somehow at the same time.
You rearrange your schedule so you can sign them up for music class. You want them to be able to play those songs that live in their heart, using those precious hands you've held tight all these years.
Dance class, sports, band…it's all so important in their lives. They make friends, they gain skills, they learn the value of learning and working towards a common goal with others.
But oh, the stress in the moments leading up to that First Day. Will it all get done, work out, fall in place! You can't wait until you settle in your chair after you've dropped them off at school, forcing them to pose for that picture they hate you for taking.
As I sit here alone, I want to beg of you one thing. While you're stressing, arguing, racing around, standing in line, worrying…I want to beg of you to breathe. Stop, just for a second. Breathe! in that moment, take a picture with your heart that you will never let go. Hold it tight, and hold them tight.
Because First Days are over so very lightning fast. In the blink of an eye, your babies, your precious children, are bigger and stronger than you ever could have imagined. They move out, they move on, they begin families and lives of their own. They have their children, they make their own way. They now begin to worry, stress, and stand in line getting ready for their babies' First Days.
Soon enough, when they and the other Mommies and Daddies are getting ready for First Day, you'll find your house empty of the laughter, the fun, the smiles, the sad times and worry that you had no idea you were getting into when that beautiful one of a kind baby was laid in your arms that very First Day.
~ cj 2011.08.22